Welcome to the site of the Moreton in Marsh & District Local History Society.
<![if !vml]>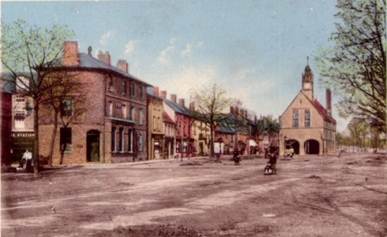 <![endif]>
Founded 1982
The Society was founded 30 years ago to promote the study of local history within Moreton-in-Marsh and the surrounding district. Moreton is the centre of a countryside steeped in history. The town itself lies on the end moraine of an Ice Age glacier, at the watershed between the Thames and Severn river systems. It is surrounded by a beautiful and varied countryside, from the Cotswold Hills on one side to the rich agricultural land of the Warwickshire Avon on the other. A short distance away, the Four Shire Stone marks a spot where until comparatively recently a complicated pattern of parish and county boundaries existed.
Since its inception the Society, with an average membership of 100, has carried out a programme of talks and visits, concentrating, as far as possible, on local villages and towns and the people who lived in them.
The Committee have published two books, as well as a quarterly magazine (now sadly discontinued). The book, Four Shires Memories, is still available at a cost of £5 (click on Publications)
Arrangements are currently underway for the Society's archives to be scanned so that information can be readily available to seekers after local or family information.
Our meetings are held in the Women's Institute Hall, New Road (road with Post Office), Moreton-in-Marsh, at 7.30 p.m. unless otherwise stated.

Visitors and potential new members will all find a welcome at our meetings (see below for dates and times). If you are a non-member who wishes to join, or attend a particular meeting that interests you, just turn up on the evening and make yourself known to one of the committee.
Canon Tim Sedgely
Chairman
How to Contact Us
More information on how to join the society can be obtained by email: ruth.f.wright@btintermet.com
Society News …
Outings
On June 14th 2016, led by Tim Porter, we visited the churches at Shipton and Milton Under Wychwood. Tim, as usual, brought the history of these churches to life.
During August, we had a most successful outing to Burghley House and Stamford. It was enjoyed by nearly 40 members. It included a guided tour of the House. Well done Ray and Pat for a well organised trip – as usual, it ran like clockwork.
Archives
Most of the archive photographic material (that was under the care of the late Guy Stapleton) has now been scanned and is in a digital format. To view any of this content, please contact Mike Rees (mjrees@versamail.co.uk).
The Society is currently looking for a permanent home for all this archive material (digital and hardcopy). The Society has also negotiated the use of a display cabinet in the Cotswold District Council Centre in Moreton.
Meetings
The next round of meetings starts on Wednesday September 9th 2016 when the subject is: The excavations at Bourton on the Hill. This talk is given by Chiz Harwood.
The remaining meetings for 2016/2017 are as follows:
Wednesday, 12th October 2016
William Smith of Churchill – The Father of English Geology
by Owen Geen
Wednesday, 9th November 2016
'Four Legs and a Tail' (a book about a dynasty of local vets)
by Alan Walker
Wednesday, 14th December 2016
Slides of Moreton – Part 2
Followed by seasonal refreshments.
Wednesday 8th March 2017
Annual General Meeting followed by
Northleach Prison
by Michael Banks
Wednesday 12th April 2017
The Horrible History of Scotland
by Susan Brattin
Wednesday, 10th May 2017
Local History Archives
(to be confirmed)